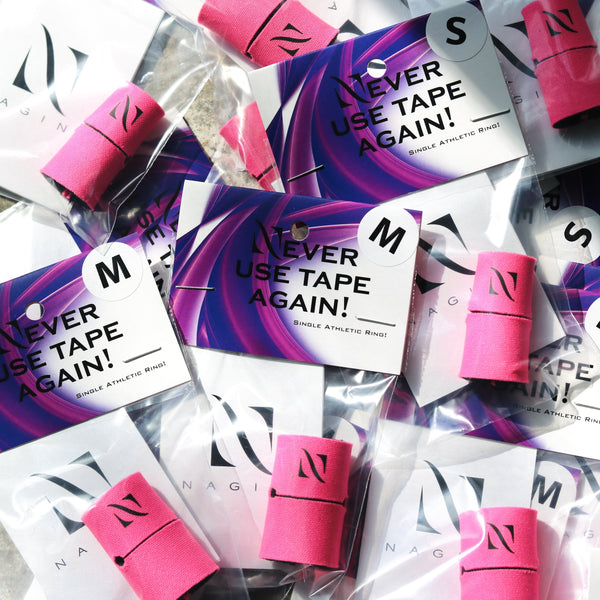 Classic Kit Rings-Restock
ARE YOU RUNNING OUT OF RINGS FOR YOUR NAGINI CLASSIC KIT?
 Looking to restock your NAGINI Classic Kit? You've come to the right place!
Never run out of NAGINI rings at your shop. We've made it super easy to restock and continue selling!
Here, you will find 100 Coachella Pink Single Rings packaged and ready to ship.
-34 Large, 33 Medium, 33 Small
All sizes must be shipped together, no separate orders are available at this time.
Turn around for this particular order is 2-3 weeks. If any longer, we will contact you via email. Please order accordingly.
More about the product below!

NAGINI brand is hand-made and crafted in Los Angeles.

This product is made of Neoprene, a synthetic polymer resembling a softer, more flexible rubber. Neoprene is resistant to oil, heat, weathering, and sweat. This durable fabric is athletic-approved and will stretch to fit your fingers perfectly.

Please note that NAGINI brand will not take any responsibility for naturally occurring characteristics.

For activewear, neoprene should be washed according to use.  Hand wash with mild detergent and leave to soak for a while after rinsing. Extremely dirty neoprene may be left to soak overnight. For salt/sweat stains rub warm/hot water directly on the mark and then let soak in warm water. Air dry. Do NOT put in the dryer as the heat will melt the neoprene. Store away from direct sunlight.
*NOTE*

SIZING-
Anything below a size 4 ring- S 
Anything below a size 6 ring- M

Anything above a size 7 ring- L
***Our rings are tapered to fit your fingers perfectly. Make sure the logo is resting at the top of your finger, closer to your finger nail, so the fit is tighter on top and wider around the base of the finger. 
RINGS
TANKS
Our NAGINI tanks are true to size but may shrink a bit in high heat tumble dry. 
HATS
One Size Fits Most. Machine Washable. Air Dry.